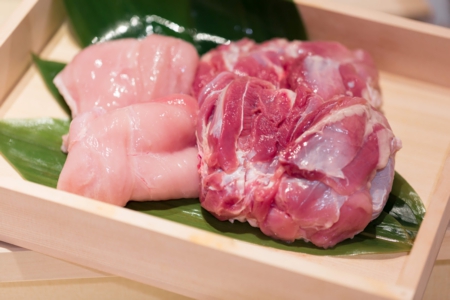 Tastiness in different level, using local farm chicken.
We would like you to taste the cuisine that sticks to authentic flavor.
From such thoughts, we use delicious "Sandai Jidori - free range chicken" from all over country.
Our craftsman is using sophisticated technique by grilling chicken meat one by one with skewer to enhance the rich flavor and taste.

Selection of the best - liquor
In Taira all liquors are exceptional.
We offered hot and dry "spicy" liquor to match Japanese cuisine well, amongst it is from Echizen area in Fukui Prefecture "Kokuryuu - black dragon" sake.
From the sake's name that even the Japanese Crown Prince has praised, diverse to varieties of limited edition liquor.
We offer delicious dishes and also pairing liquor that complementing each other well.

In the wine range, we will propose a recommended wine to fit Japanese dishes.
From refreshing aroma and balance of acidity in rich flavor wine, diverse to different variety of wine with deep flavor. Other liquors are YEBISU beer, whiskey, and various types of Shochu.