Shuitsu oyakodon[ limited 10 meals/day]
… 2,000yen
Luxurious bowl of rice topped with chicken and eggs that use Japan`s best chicken thigh, breast, minced meat and nostalgic taste of egg.
Excellent oyakodon limited to 10 meals/day at lunch time, please try by all means at a time!


Oyakodon
…………………………… 1,200yen
Luxurious bowl of rice topped with chicken and eggs that use "Mioudori chicken thigh" and "nostalgic taste of egg dishes"

Niku Teishoku (meat set meal)
……………………… 1,200yen
Yakitori Taira daily special lunch time starts from 11:30am until 14pm.
Free refills of rice & miso soup!
The classic lunch of Japanese set meal in Omotesando Antique Street, please try Taira limited Japanese set lunch!
★It is a limited number of meals, please try it as soon as possible ♪
< Examples of daily set meal until now>
Fried chicken thigh, Tatsuta fried chicken, Grilled pork with ginger, Chicken cutlet, Chicken tempura in rice bowl, and many more


Sakana Teishoku (fish set meal)
…………………… 1,200yen
In Taira, we are not only serving tasty yakitori!
Please try our daily delicious fish set meal also!


・
Nama Tamago (raw egg)
……………………
100yen
By all means just put the egg over the rice! And you will praise the chef because its deliciousness.
Tax included(at lunch time)



For 10,000yen/ person, you will get :
Mizutaki course - one pot dish cooked at the table

Seasonal appetizer・shunsai (vegetable)・salad・agemono (fried dish)   Mizutaki・porridge or noodles set・dessert
Available from two persons


■( ) Is an example of a day
Pickle (bamboo shoots with vinegar bean paste)
Hot dishes (seasonal egg custard)
Sashimi (3 types of sashimi)
Appetizer (simmered rockfish)
Skewer (five pieces)
Shunsai (salad)
Mizutaki - one pot dish cooked at the table
Porridge・noodle
Dessert (homemade brown sugar sherbet)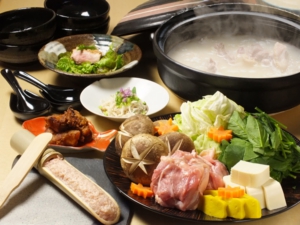 For 10,000yen/person, you will get :
Tokusen - Special selection

Chef Omakase (selection) specialties course
It is a pleasant feeling to dine together with your significant people and spend time together by eating these chef's speciality course.
A day in advance of reservation is essential.
Please tell about you & your partner dislike dishes or allergies at the time of reservation.
From appetizer to the bowl dishes and grilled dishes, all of them are specialty course.
Sushi [Taira] produces Yakitori Taira, a number of creative cuisine that goes beyond the context of the yakitori which you can enjoy beyond your satisfaction.
Please try this menu course at Taira by all means at a time.







※After 21:00 we will accept à la carte orders.
※ Depends on ingredients' purchasing situation on that day, there will be a case that the course detail will be change without notice.
※If you can let us know the day before, if possible we will answer to your request.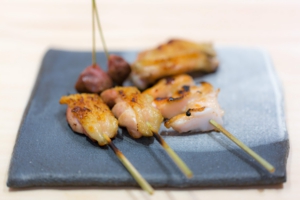 skewer
Niku gushi (meat skewer), Yasai gushi (vegetable skewer), various type  200yen~

It can be ordered one by one.
Please acknowledge beforehand, some food cannot be served because of purchasing situation on that day.



A la carte dish
Toufu ryouri (dish), shunsai (vegetable), agemono (fried), gohan mono (rice meal), etc
The chef will provide recommended dishes using seasonal ingredients of the day.

Beer
Premium Malts beer (chuu - medium)
Premium Malts beer (ko - small)
Hitokuchi (sip) beer
Sapporo Kuro (black) label (small bottle)
Sapporo Premium - Alcohol Free
Red eye
Sandygaff
By the glass
Sparkling
Champagne
White wine
Red wine
Whiskey
Suntory kakubin (square)
Yamazaki 12 Years
Chivas Regal
Nihonshu (Japanese sake)
Ichino tani
Ishizuchi
Beppin
Tokugin
Sanjuhachi-gou
Fuuka
Kokuryuu (black dragon)
Plum wine
Shirakaga
Narutotai aragoshi
Imojouchuu (potato shochu - liquor)
Satsuma musou
Kame tsubo jikomi
Akarui nou mura
Tekkan
Koujiya mitsuyo
Murasaki no sekitoba
Satou Haku (white)
Satou Kuro (black)
Maou
Mugijouchuu (barley shochu - liquor)
Kurohachi
Tajibei
Modan na oyaji
Ganko na musuko
Karasu
Satou
Nakanaka
Kenpachi
Komejouchuu (rice shochu - liquor)
Suikyomusi
Kokutoujouchuu (brown sugar shochu - liquor)
Rento

Shisojouchuu (shiso shochu - liquor)
Tantakatan
Soft drink
Orange juice
Tomato juice
Cola
Ginger ale
Ginger ale(karakuchi - spicy)
Jasmine tea
Ryokucha (green tea)
Uroncha (oolong tea)
Kuro uroncha (black oolong tea)
Sanpellegrino
White wine
Glass wine

Limoux Blanc Peyre Jac 2012

Beringer Founders' Estate Chardonnay

Laboure-Roi Chablis

Toriivilla Blanc Cuvee "Hideka"

Domaine du Nozay Sancerre Blanc

NAKAI VINEYARD SAUVIGNON BLANC RUSSIAN RIVER VALLEY

Newton unfiltered Chardonnay Napa Valley

KENZO ESTATE asatsuyu

PULIGNY MONTRACHET HENRI BOILLOT

Red wine
Glass wine

Penfolds Koonunga Hill Shiraz Cabernet

Bogle Vineyards Cabernet Sauvignon

Bourgone Pinot Noir 2013 Francois d'Allaines

Savigny les Beaune 1er Cru Aux Clous

Beringer Knights Valley Cabernet Sauvignon

BOUCHARD PERE & FILS GEVREY-CHAMBERTIN

Torbreck The Steading

Vosne-Romanee Les Hautes-Maizieres

PORTFOLIO Limited Edition 2011

OPUS ONE

Champagne
MUMM CORDON ROUGE

PERRIER-JOUET GRAND BRUT

PERRIER-JOUET BELLE EPOQUE

PERRIER-JOUET BELLE EPOQUE ROSE